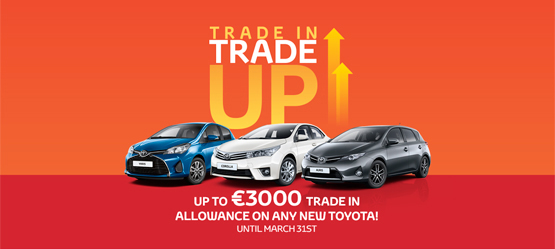 Offer
Toyota Trade in Trade up Allowance
Upgrade your current car and we'll give you up to €3,000 against your new Toyota! Only available until March 31st. ...
Valid from 06/03/2015 until 31/03/2015
Models used in certain sections are for illustration purposes only and may feature optional extras. All prices quoted on this site are ex-works, ie. does not include Dealer delivery related charges or metallic paint where applicable. The information contained on this Website was correct at the time of going live. Toyota Ireland reserves the right to change or improve the specifications of its cars without prior notice. You are therefore requested to check with your local Toyota dealer to ascertain whether there have been any such changes or modifications since the production of this Website. The colours depicted in this Website may vary slightly from the actual paint colours due to technical limitations.