CAREER OPPORTUNITIES - JOIN OUR TEAM
CURRENT OPENINGS:
QUALIFIED MOTOR MECHANIC
APPRENTICE MOTOR MECHANIC

Please submit your current CV to the Manager for consideration:
We also advertise all openings on various sites such as indeed, as well as here on our website and social channels.

TOYOTA TECHNICIAN APPRENTICESHIP PROGRAMME WITH GRANDONS
There's never been a better time to consider an apprenticeship with Grandons Toyota.
There are 53 Toyota manufacturing plants in 28 countries across 170 markets. Somewhere in the world a Toyota vehicle rolls off the production line every 3 seconds.
Toyota continues to lead the way with advanced Hybrid, Battery, Fuel Cell, turbo charged petrol injection engines and chassis technology.
The need for a skilled workforce in the industry becomes ever greater and there is a wide range of opportunities and exciting prospects for the right people. Whatever your interest, there is a role for you.
If you are looking to enter as a Phase 1 Apprentice or are already on the pathway with your Apprenticeship and looking to relocate, talk to us today!
Toyota Certified Technicians
A Toyota Apprenticeship Programme that runs in parallel with the Solas based Apprenticeship. Team 25 is a manufacturer programme that ensures apprentices and technicians develop their skills in line with advancements in automotive technology.
TOYOTA APPRENTICESHIP TRAINING PROGRAMME: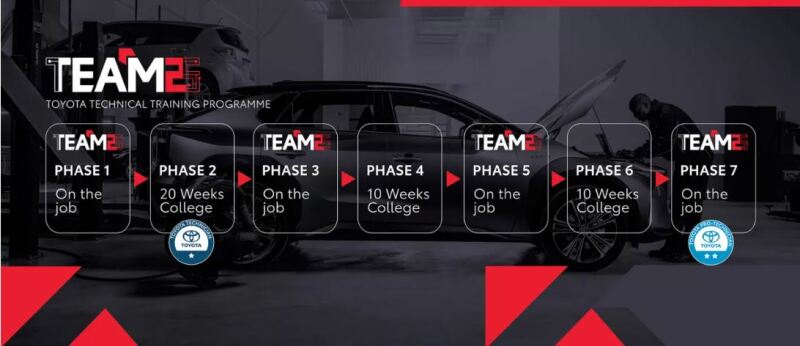 A prerequisite to a Motor Mechanic Apprenticeship is passing a Colour Vision Test. We highly recommend getting tested with an optician in advance of an application to ensure you qualify. This can be carried out by any optician.
Motor Mechanic Colour Vision Test Download
Dealer Principal
Ken Grandon
Aftersales Team at Grandons Toyota Cork
Service Department