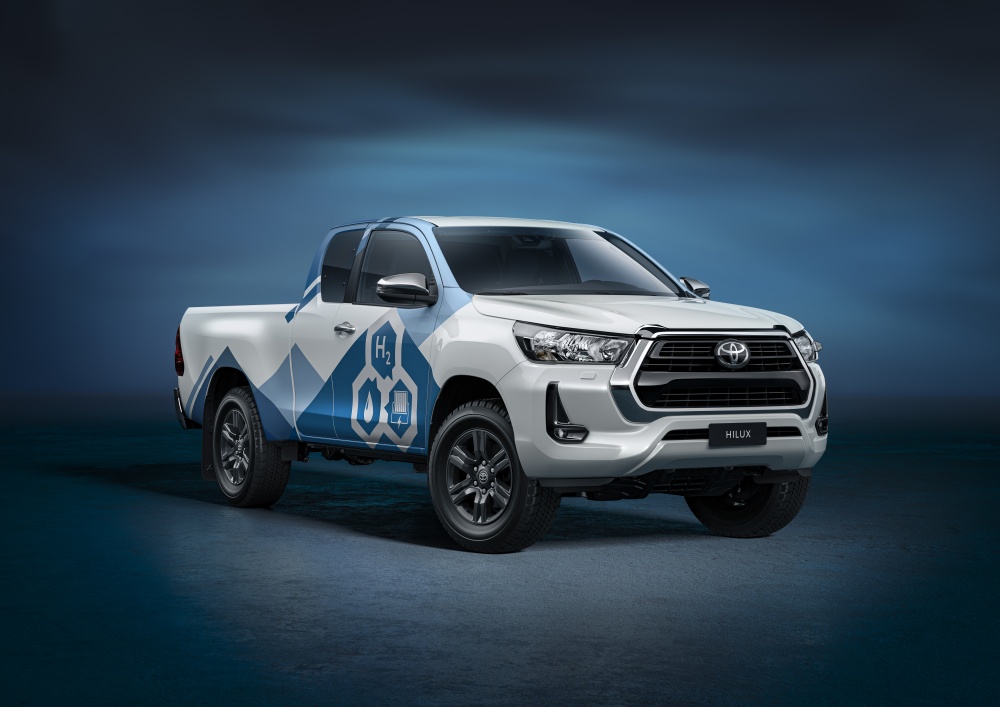 Development starts on prototype hydrogen fuel cell Toyota Hilux
- Toyota Motor Manufacturing (UK) Ltd to receive funding from UK Government through the Advanced Propulsion Centre (APC) for zero-emissions vehicle development
- The project specifically covers the development of a hydrogen fuel cell powered prototype Toyota Hilux
- Toyota's latest 2nd generation fuel cell technology will be used for the transformation
Burnaston, 02 December 2022 - Driven by an evolving customer demand and Toyota's holistic approach to mobility across all sectors, the company has identified a new opportunity in the commercial vehicle market in terms of a zero-emissions product offering. Toyota successfully applied for APC funding last year, presenting a project to contribute to the development of new, cleaner technologies and mobility solutions. The APC plays a fundamental role in the UK automotive landscape and offers unique opportunities to bridge the gap between industry and future technological requirements. This funding specifically supports later stage R&D that takes a product from proof of concept to prototype vehicles.
The consortium, led by Toyota Motor Manufacturing (UK) Ltd. (TMUK) will receive funding to cover the development of a fuel cell powered Hilux. In collaboration with highly skilled UK based technical engineering partners, namely Ricardo, ETL, D2H and Thatcham Research, the project's aim is to adopt second generation Toyota fuel cell components (as used in the latest Toyota Mirai) for the transformation of a Hilux into a fuel cell electric vehicle. While TMUK is leading the project, a team from Toyota Motor Europe (TME) R&D will provide expert technical support to enable the UK-based teams to build its own expertise and self-sufficiency to develop next generation hydrogen drivetrain capabilities.
For over 20 years, Toyota has been promoting a multi-path approach to carbon neutrality by offering a diverse vehicle line-up including all electrified technologies, Hybrid Electric, Plug-in Hybrid Electric, Battery Electric and Fuel Cell Electric. The development of a successful hydrogen transport sector is an essential building block towards this goal. Within the scope of the bid, the initial prototype vehicles will be produced at the TMUK site in Burnaston during 2023. Following successful performance results, the target is to prepare for small series production. This project represents an exciting opportunity to investigate an additional application of Toyota's fuel cell technology in a vehicle segment that is key to a number of industry groups and will help support the sector's move towards decarbonisation.
"The UK is one of the key markets for pick-up trucks and is an important market for Toyota. This funding represents a tremendous opportunity to develop a zero emission solution in a critical market segment. We would like to thank the UK Government for the funding that will enable the consortium to investigate the development of a fuel cell powered powertrain for the Toyota Hilux, supporting our carbon neutrality ambition. " Matt Harrison, President & CEO of Toyota Motor Europe
About the Consortium:
Ricardo - a global strategic engineering and environmental consultancy that specialises in the transport, energy and scarce resources sectors. They will support the technical integration of the fuel cell components into the Hilux chassis.
ETL - European Thermodynamics is committed to delivering high integrity thermal solutions through excellence in design and innovation. They will support in delivering state-of-the-art thermal management solutions.
D2H - The D2H group of companies provides high technology engineering services in simulation, modelling, aerodynamics, thermodynamics and design for motorsport and other high-performance industries. Their thermodynamic expertise will be crucial to the project.
Thatcham Research - Thatcham Research was established by the motor insurance industry in 1969, with the specific aim of containing or reducing the cost of motor insurance claims while maintaining safety standards. They will support in terms of crash safety and insurance ratings.
Toyota Motor Europe NV/SA (TME) oversees the wholesale sales and marketing of Toyota, GR (Gazoo Racing) and Lexus vehicles and parts and accessories, as well as Toyota's European manufacturing and engineering operations. Toyota directly employs over 25,000 people and has invested over EUR 11 billion in Europe since 1990. Its eight European manufacturing plants are located in Portugal, the UK, France, Poland, Czech Republic and Turkey. Today, there are approximately 16.5 million Toyota, GR and Lexus vehicles on European roads, whose drivers are supported by a network of 28 National Marketing and Sales Companies and around 2,800 retail sales outlets in 53 countries (EU, UK, EFTA countries + Russia, Israel, Turkey and other Eastern European countries). In 2021, TME sold 1,076,300 vehicles in Europe for a 6.4% market share. For more information, visit Facts & Figures (toyota.eu) and www.toyota-europe.com.
Toyota believes that when people are free to move, anything is possible. In the pursuit of "Mobility for All", Toyota aims to create safer, more connected, inclusive and sustainable mobility to achieve its mission of producing "Happiness for All". In Europe, TME launched the KINTO mobility brand which offers a range of mobility services in 14 countries, and is growing its business-to-business sales of zero-emission fuel cell products and engineering support. Contributing to the UN Sustainable Development Goals, Toyota is working to achieve carbon neutrality in its entire business across Europe. A historic leader in CO2 reduction in Europe, TME aims to achieve 100% CO2 reduction in all new vehicles in Western Europe by 2035 and will continue to offer a full range of electrified powertrains to customers across the region with its hybrid, plug-in hybrid, battery and fuel cell electric vehicles. When it comes to sustainability, Toyota is committed to going Beyond Zero.
Toyota views hydrogen as one of the key building blocks towards carbon neutrality, using fuel cell technology for mobility and in the wider economy beyond transport. As a hydrogen frontrunner, Toyota's advanced fuel cell technology is already integrated into passenger cars, buses, trucks, trains, marine and stationary applications for a range of business customers and other OEMs. To meet growing demand in the region, TME started producing its 2nd generation compact fuel cell modules in Europe in January 2022.