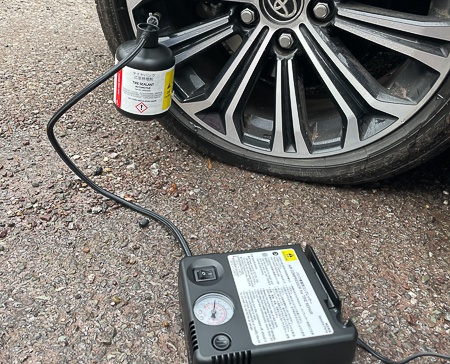 HOW TO USE A TOYOTA TYRE INFLATOR KIT
Just a quick few tips on how to use the Toyota Tyre Inflator Kit in the event of getting a puncture. REMEMBER TO SEEK ASSISTANCE IF YOU HAVE ANY DOUBT, TOYOTA ASSIST: 1800741700. Should your vehicle be out of warranty, your Insurance provider usually offers a vehicle rescue service also.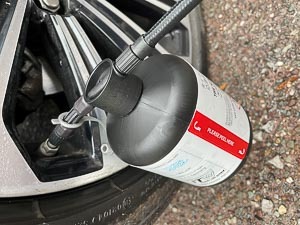 A few tips If you get a puncture and on using the Tyre Inflator Kit:

Pull in off the road in a safe place.
Put your Hazzard lights on and apply the parking brake.
Do not use the inflator kit on punctures more than 4mm in diameter
Do not use the inflator kit if the wheel rim is damaged
Do not use the inflator kit if the tyre pressure has been flat or at low pressure for an extended time as the tyre could be damaged.
IF YOU HAVE ANY DOUBT PLEASE SEEK ASSISTANCE, TOYOTA ASSIST AVAILABLE 24/7: 1800741700
The Inflator Kit is stored in the boot compartment where the traditional spare wheel would have been stored.
Remove the compressor unit and inflator canister from the bag.
Pull out the lead from the compressor and plug into the cigarette lighter in the cabin (this can be Inside the front centre armrest in some models)
Remove the valve cap from the wheel with the flat tyre.
Remove the protector caps from both sides of the inflator canister. Attach one side of the canister to the wheel keeping the canister in an upright position, and attach the compressor to the other side.
Turn on the compressor with your engine running and the tyre will inflate, turn it off when it reaches the required pressure.
Remove the canister connection from your wheel and replace the valve cap.
PLEASE HAVE YOUR TYRE INSPECTED ASAP
Call Toyota Assist should you have any further difficulty or need advice/assistance 1800 741700
Replace the compressor in the storage bag and relocate in the boot compartment.
You will need to replace the inflator canister with a new one so you always have one at hand. These can be purchased from us here at Grandons Toyota, Tel 021-4858300, and delivery can be arranged.
VIDEO TUTORIAL