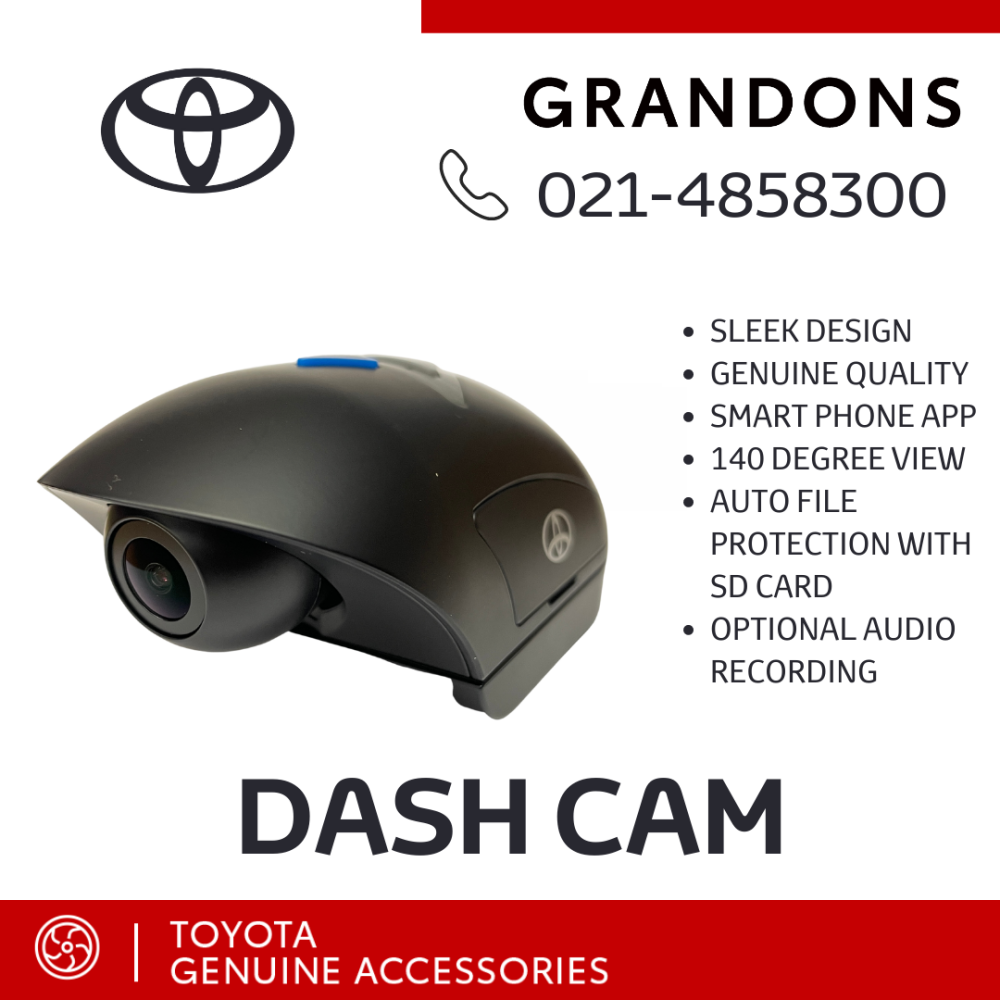 PROTECT YOURSELF WITH A TOYOTA DASHCAM
TOYOTA DASH CAM'S NOW AVAILABLE FROM GRANDONS
BENEFITS OF A TOYOTA DASH CAM
Capture First-hand Accident Evidence.
Parents Can Monitor First-time Drivers.
Submit Dash Cam Footage to Insurance Companies.
Share Dash Cam Videos with Affected Parties and Gardai.
Document Scenic Drives or Road Trips.
Record Surroundings of a Parked Vehicle.
Neatly fitted and wired into your Toyota
Infinite Loop
Designed to record continuously in 1080p, with the oldest files being automatically overwritten when the SD card is full.
Incident Recording
Can automatically preserve footage of the 12 seconds before and the 8 seconds following an abnormal shock while driving.
Parking Surveillance
Dashcam can record up to 60 seconds following an impact while the car is parked.
Interesting Event Recording
Hit the Action button and the Dashcam can protect footage of the 12 seconds before and the 8 seconds after.
Adventure Mode
You can manually protect up to an hour of high-quality video footage.
RECORDING
Parking Surveillance
While your vehicle is parked, the camera is designed to wake up if the G-force sensor detects an impact.
Action mode
Special drives can be captured in one continuous file, easy to download and share afterwards.
Interesting Event
RecordingEvents can be captured, even after they happen, with a press of the Action button.
Accident Detection
G-force sensors automatically protect the footage before, during, and after an accident.
FEATURES
Smart Phone WIFI Connectivity
Wirelessly connect your smartphone to review, download, and share your footage.
PC Companion Tool
Available for Windows and Mac PCs, the companion tool lets you review detailed GPS and G-force information alongside your video.
HARDWARE
MicroSD
16GB MicroSD is included.
Download footage to your phone with the App or the SD Card can be removed and the video copied to your computer/device.
Low Voltage Protection
Using intelligent battery monitoring, the camera is designed to turn off automatically to avoid draining the vehicle's battery while parked.

Please follow this quick reference guide for setting up your new Toyota Dashcam
Note: The Dashcam connects to your phone via Wi-fi, not Bluetooth.

244 KB
HOW DO I PLAY RECORDED FOOTAGE
You can download and share footage with the complimentary Toyota Integrated Dashcam App for your Apple® or Android™ smartphone.
The companion PC tool software, available for your Windows or Mac, lets you review additional information such as vehicle speed, location, and G-forces, all synchronized with the footage.
Desktop Playback Software

Download the Toyota Dashcam App:
Protect Yourself!
Call 021-4858300
WhatsApp 086-2564089
Email: service@grandons.ie